Dispatches from the Studio
Pinterest
New Work for December 2015
No Comments
Dover, NH Mini Maker Faire
I will be there with ceramic shapes and acrylic paint. For $1, you can come by and paint a masterpiece to hang where ever you would like.
No Comments
Nicholas Rena
Love the colors and shapes!
-article from c-file (click the pic)

No Comments
Ultimate Potter
The newer trend in pottery is to be making dishes for a restaurant. I used to do it for a bridal registry. All…by…myself. I loved that I helped design the dishes, the colors, and helped name the sets but also hated the many hours of work, kiln disasters, glaze disasters, and the tedium of it. However, Jono Pandolfi has a great set up, great looking tools, a staff, and many orders. I think this would make the whole experience much fun. I would definitely change my mind about going back into the production biz if I had a team and a great set of stuff to help me create the products.
Read the article, The Latest Farm-to-Table Trend: Rustic Tableware, attached to the pic below, and check out the video that accompanies it. Neat stuff.
No Comments
Photographers and their Famous Images
We've seen the images, now see the artists behind them.
Click the photo to be taken to the article on Distractify.
No Comments
Prince Rupert's Drops Explained
This video comes from SmarterEveryDay. It shows one way glass can be strong but fragile at the same time. I love to use glass but am also very interested in the science behind it as well. I hope you enjoy learning about it as much as I do. By the way, Prince Rupert was a Belgian scientist that helped make these glass drops famous in the 1600s.
Here is the Wikipedia page about this – click the photo.

No Comments
Women in Street Art
Yes, they exist!!!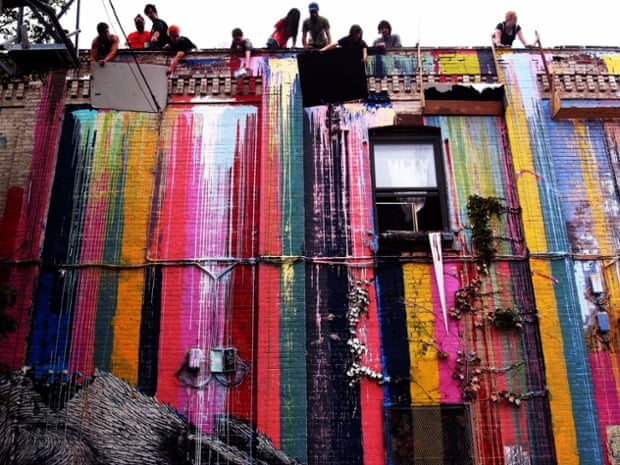 No Comments
Creative Reuse
Oh wow! These sculptures have one me over. One because the man is inspired by nature, not unlike myself. Two, he has outstanding skill at what he does. And, three, he makes these sculptures from parts he finds at flea markets or from parts that have been given to him, making them wholly unrecognizable. I am so glad I ran across this article. I wish I could own one.
No Comments
Arts Education!!!
Arts Education Matters: We Know, We Measured It
By Jay P. Greene, Brian Kisida, Cari A. Bogulski, Anne Kraybill, Collin Hitt, & Daniel H. Bowen

No Comments
New Pouring Pottery
No Comments